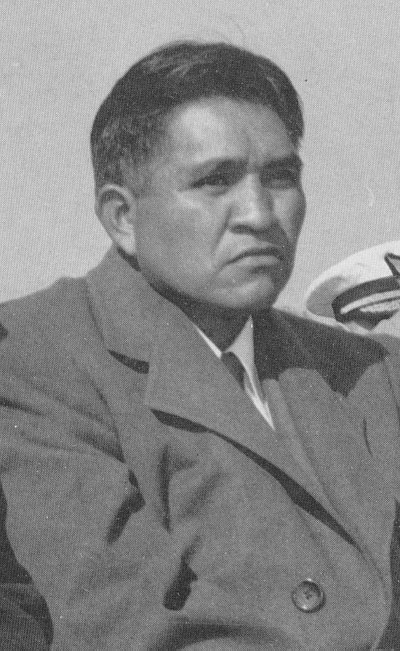 Ira Hayes was a Pima Indian. When he enlisted in the Marine Corps, he had hardly ever been off the Reservation. His Chief told him to be an "Honorable Warrior" and bring honor upon his family. Ira was a dedicated Marine. Quiet and steady, he was admired by his fellow Marines who fought alongside him in three Pacific battles.
When Ira learned that President Roosevelt wanted him and the other survivors to come back to the US to raise money on the 7th Bond Tour, he was horrified. To Ira, the heroes of Iwo Jima, those deserving honor, were his "good buddies" who died there.
At the White House, President Truman told Ira, "You are an American hero." But Ira didn't feel pride. As he later lamented, "How could I feel like a hero when only five men in my platoon of 45 survived, when only 27 men in my company of 250 managed to escape death or injury?"
The Bond Tour was an ordeal for Ira. He couldn't understand or accept the adulation . . . "It was supposed to be soft duty, but I couldn't take it. Everywhere we went people shoved drinks in our hands and said 'You're a Hero!' We knew we hadn't done that much but you couldn't tell them that."
At the conclusion of World War ll he returned to his reservation, disillusioned by what he felt was unwarranted adoration. He began to drink heavily resulting from well-meaning friends offering drink's in their appreciation of his "Heroism."
He was never able to get his life back in balance again. Ira Hayes died of exposure at the age of thirty-three on Jan, 24th 1955. Ira fell drunk in an irrigation ditch and froze to death, alone and forgotten by a country that had called him a hero. The ditch where he died was the single source of water that was provided for his people by the same government he'd proudly served.
He was memoralized by the Pima people and characterized as "a hero to everyone but himself". He is buried in Arlington Cemetery. He never married.